Disaster affects thousands
At least 4,000 properties in the Hawkesbury are flood affected, with the impact of this natural disaster being felt across the entire Local Government Area. Community members are reminded to stay safe and to stay away from remaining flood waters over coming weeks for health and safety reasons, especially given that many septic systems have been submerged or have overflowed into the river system during the heavy rains and flooding..
Free waste disposal for flood affected properties 
Following an Extraordinary Council Meeting last month and a Mayoral Minute aimed at urgently addressing waste for flood affected properties, Hawkesbury City Council has resolved to waive the costs of waste disposal at its Waste Management Facility to help flood affected residents and businesses. Council notes that the costs will be high to provide this much needed service however this is an interim policy until the NSW Government announces their clean-up plan.
Council is working with the State and Federal Governments for solutions to the removal of waste in flood affected areas, the Mayor of Hawkesbury, Councillor Patrick Conolly said.
"The flood damage across the Hawkesbury is extensive. Until the flood waters subside we won't know the full extent but the clean-up effort, and the bill, is going to be massive. We urgently need financial and logistic support of the NSW Government and the Australian Government in this huge task, which will take weeks to clean up." he said.
"I am already in discussions with Robyn Preston, our State Member for Hawkesbury, and David Elliott, Minister for Police and Emergency Services, about our flood waste and how the State Government will assist us with disaster funding for this clean up.
"As an interim policy until the NSW Government announces their clean-up plan, Council has resolved to waive the costs of waste disposal at Council's Waste Management Facility to help flood affected residents and businesses."
The NSW Environment Protection Authority has issued Council with an exemption from the waste levy however at this stage Council has not been advised of the details for clean up and funding arrangements for disposal costs. Council is pursuing the matter with the relevant agencies in order to get urgent advice on how the clean-up and disposal will be managed.
"Council is also awaiting advice from Resilience NSW on any funding packages that maybe available for flood waste removal," Mayor Conolly said.
"Residents are asking us about waste services and pump out services. Our advice is to please leave your garbage bins outside your property, and we will get to them as soon as we can," he said.
"Sullage pump out is being provided where access is available. Currently, sullage is being pumped out in half loads to ensure that maximum service coverage is maintained.
"Council has a Crisis Management Team which has been meeting for a week and Council has formed a Recovery Working Group with representatives from across Council to deal with key issues related to the recovery," the Mayor said.
Australian Government disaster relief
The Federal Government has activated the Australian Government Disaster Recovery Payment and Disaster Recovery Allowance for the Hawkesbury Local Government Area.
Under the Australian Government Disaster Recovery Payment, a one-off, non-means tested payment of $1,000 per eligible adult and $400 per child is available to individuals who have been adversely affected by a major disaster either in Australia or overseas.
The Disaster Recovery Allowance is a short-term payment to assist individuals if a declared disaster directly affects their income. Individuals can access the Disaster Recovery Allowance for a maximum of 13 weeks, with Services Australia paying the Disaster Recovery Allowance from the date an individual loses income as a direct result of the NSW floods.
Flood-impacted residents can apply for the relief payments by calling Services Australia on 180 22 66 or visit www.servicesaustralia.gov.au/disaster It can be processed over the phone, you just need to provide your details and explain your circumstances. The package has also been extended to many other floods affected regions in NSW.
NSW State Government disaster relief
Disaster recovery assistance is available to businesses in eligible NSW Local Government Areas (LGAs) that have been impacted by the storms and floods from 10 March 2021. If your business premises have been damaged in the recent storms and flooding, please take photographs of the visible damage as soon as it is safe to do so, to assist in accessing support in the future.
Mental Health Support
For Mental Health Support 24hours/7 days you can call: Lifeline on 13 11 14 or Beyond Blue on 1300 224 636 or the NSW Mental Health Line on 1800 011 511. For assistance from Telstra with diversions, data and reconnection support, call 1800 888 888.
Insurance issues
For help with Insurance if you are not sure of your insurance details or have general inquiries about the claims process you can call the Insurance Council of Australia's Disaster Hotline on 1800 734 621. If you are a primary producer needing assistance you can call Rural Assistance Authority on 1800 678 593 or visit www.raa.nsw.gov.au/disaster-assistance.
Recovery Support Information
If your home or belongings have been damaged you can call Disaster Customer Care at Service NSW on 13 77 88. For More Information on Recovery Support visit www.service.nsw.gov.au/floods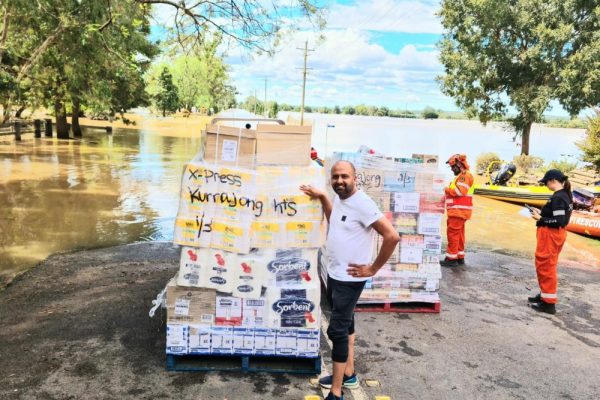 Donations
GIVIT in partnership with the NSW Government, GIVIT www.GIVIT.org.au is managing donations during this recovery. GIVIT is a national online non-profit organisation that matches donors and community organisations to make sure people and communities get exactly what they need, when they need it. GIVIT captures offers of goods, volunteering and services online, removing the burden on organisations to collect, sort, store and dispose of donations they do not need. This allows organisations to focus on delivering their core community service, significantly reducing the administrative and financial cost of managing offers of help.
Unrequested donations hinder recovery efforts. Please do not drop donations into the affected areas. At this crucial time, it is important to not overwhelm on-the-ground charities.
Please check GIVIT's website over the coming days and weeks to see exactly what is needed.
GIVIT's website www.givit.org.au is an easy, quick and efficient way of donating directly to people in need without overwhelming charities on the ground.
Donations for the Hawkesbury
Donations for the Severe Storms and Flooding fund on GIVIT can be directed to the Hawkesbury specifically by selecting DONATE FUNDS and typing Hawkesbury in the Comments section when making a donation OR by selecting DONATE FUNDS and selecting to directly FUND items requested in the Hawkesbury area.
Non-profit organisations 
Loan assistance is available to churches and voluntary non-profit organisations for the restoration of essential facilities. Visit the NSW Rural Assistance Authority website  www.raa.nsw.gov.au/disaster-assistance for more information or call 1800 678 593.