Life is but a series of memories. Bad and sad. Good and glad.
During her 90 years in this place, Blacktown's marvellous nonagenarian, Angela Gauci, has experienced many of life's ups and downs. Spending 63 of those years with her beloved husband, Joe, who sadly passed way in 2010 after a long battle with dementia. Being a devoted and inspirational mother and Nanna to her six children, their 17 children, their 20 children and a fifth generation of two great- great grandchildren.
But there's always a counter balance to life's joys. There was losing "my darling Joe" and a horrific incident back in 1941 on the family farm near the village of Naxxar on the beautiful island nation of Malta. That incident set up a chain reaction which shaped Angela, Joe and their descendants' lives over the ensuing decades.
More on that momentous and heart-wrenching occasion later, but first let's return to the present and talk about another joyful time in Angela's long life. That was on February 24 when Angela's Richmond Road home was invaded by admirers wishing her an auspicious and happy birthday. Among those who turned up were Blacktown City Mayor, Tony Bleasdale OAM and State Member for Blacktown, Stephen Bali, each hefting huge bouquets of flowers which they presented to a delighted Angela. Angela proudly displayed letters of congratulations from a host of well-wishers including Prime Minister Scott Morrison, NSW Premier Gladys Berejiklian and the Federal Member for Chifley, Ed Husic.
Also in attendance were Mary Gauci, Angela's youngest child and only daughter, Mary's daughter, Jessica Cunich and her nine-months-old daughter, Annabelle. Because of Covid-19 restrictions, a huge family celebration the previous weekend had to be cancelled and only a small gathering of loved ones were on hand to celebrate Angela's 90 years, most of which have been spent inspiring her loved ones to succeed in life over so many levels.
There's little doubt that the "terrible incident" in 1941 shaped Angela's always positive outlook on life. To ensure that every moment is not wasted and to forever bestow love on those nearest and dearest.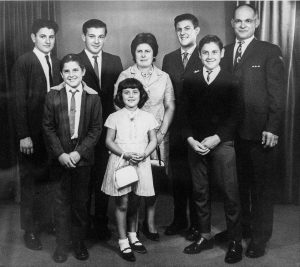 The incident? During World War II, Malta was a British Colony (it became an independent republic in 1964) and came under heavy aerial bombardment and strafing from the German and Italian air forces. One day, 10-year-old Angela, her year-younger sister, Juza, and an older brother, Andrew, were out in the countryside scavenging – under strict instructions from their mother "not to touch anything you don't know what it is".
They found what was probably a large fragmentation infantry hand grenade which had been presented to the Maltese out of one of the Axis 'planes. After handling the grenade, Andrew placed it in the scavenging sack and the trio headed back to the farmhouse. "Juza entered the house first and went straight into her parent's bedroom to see her sick father, Joseph, while Andrew walked into the kitchen with the bag," Mary explained.
"Mum then walked past the kitchen to join Juza in with their father and saw her mother, two brothers and three sisters in the kitchen." The group probably gathered around to inspect the day's findings when the grenade exploded, instantly killing their mother and five siblings. I can't even imagine the horror and subsequent sadness inflicted on Angela, Juza and Joseph.
But life must go on!
Angela and Juza's days at school learning reading, writing, arithmetic and English were over as they were required to look after their father, sew clothing for the British soldiers and help out on the farm which produced wheat, vegetables and hay for the animals. When she was 16, Angela married a fellow farmer, Joe Gauci, on November 16, 1947 and over the ensuring years kept working on the farm and bearing four sons. Joe Gauci wanted a better life for his wife and children and he migrated to Australia in April 1955, found a job and a place to live and was joined in November of that year by his family.
"I was heartbroken leaving Juza behind to look after my father but she coped and later married, had children and had a happy life back in Naxxar," Angela said.
The Gauci clan – later increased in size by the arrivals of another son and Mary – initially lived in a two-room annex at the rear of a home owned by a Lebanese family but in 1957 they were able to move into their own home on Richmond Road which has been home base for the extended family ever since.
Angela is proud of the way she and Joe steered their children into making most of what life presents and they in turn are eternally grateful for the example set by their parents.
"Mum and dad instilled in all of us a tremendous work ethic, to save and buy a home – which all of us have done and passed on that advice to our own kids," Mary said.
Angela Gauci – yet another post-war immigrant to contribute immensely to Australian culture and way of life.
Author: Greg Martin