MPN-MATE Research Foundation, was commenced by a small group of MPN self-advocating patients, who came to realise that very little research work was being conducted in the field of Myeloproliferative Neoplasms (MPNs).
MPNs appear when bone marrow creates a proliferation of red, white blood cells, and platelets. Because MPNs are characterised by uncontrolled cell growth, they meet the definition of cancer.

Initially MPNs were called Myeloproliferative Diseases until 2008 when the World Health Organisation reclassified them as types of blood cancer, and named them Myeloproliferative Neoplasms, (MPNs). Each type of MPN is characterised by a pattern of abnormal blood cell production that usually impacts one blood cell type more than the others. It can, and often does, adversely affect one's quality of life.
Presently, only Allogenic Stem Cell Transplant (ASCT) offers a curable option, however those odds are very poor. Even people who do not have one the known genetic 'driver' mutations may still have an MPN and never know it; simply because awareness is not high and these conditions are not currently easily identified.
It is for this reason that Steven Shah and his MPN-Mate patient colleagues have formed this Registered Australian Health Promotion Charity to try to implement much-needed changes to the MPN status quo.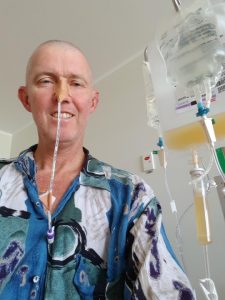 Warwick Gosling is 47 and a Hills local. He was a Town Planner with the Hills and Hawkesbury Shire Councils for a number of years, until his position became untenable due to his Myelofibrosis (MF) progression. Warwick is currently undergoing an Allogenic Stem Cell Transplant (ASCT) at the Crown Princess Mary Cancer Centre at Westmead Hospital. Warwick is a huge supporter of the MPN-Mate research and would love locals to support by either donating, participating in the ride or sponsoring a rider.
The MPN -Mate Research Foundation, in support of the Peter Callum Cancer Foundation, will be holding an epic fundraiser and awareness campaign to bring about better treatments to manage and hopefully cure MPN's into the future.
Steven Shah initially hoped to cycle the entire continent, but COVID-19 foiled that, so Plan B is to ride from Castle Hill Showground to Coffs Harbour. It is a 555 km ride and Steve and his support riders hope to raise $25,000 for MPN research. The funding is crucial for reaching better outcomes and improving quality of life for all rare blood cancer sufferers like Warwick.
The ride will commence from Castle Hill Showground on the April 10. The first leg of the trip will be from Castle Hill to Somersby (125km) the second leg is from Stockton Beach to Myall Lake which is 94 km, third leg Forster to Port Macquarie 121 km, fourth leg Port Macquarie to South West Rocks 85 km and the fifth and final leg is from South West Rocks to Coffs Harbour 120km.
If you would like to be involved in the fundraiser please contact Steven Shah at steven@mpn-mate.com or ring his mobile 0467 899 801.