When the rain came down, it came in millions of bucket loads. And it continued without stopping – for days. From Saturday March 20 onwards, our community filled up like a bath tub. It was a terrifying time as homes flooded, animals needed rehoming, gutters and sky lights collapsed and people were evacuated. The aftermath was also devastating.
By the time the sun came out on the Wednesday, the State Emergency Service (SES) had received over 11,750 requests for assistance during the event and performed 989 flood rescues.
"We have had over 1606 teams in the field since Friday covering everything from flood rescues, emergency food drops, sand bagging, cutting up fallen trees and temporary repairs to damaged roofs," an SES Spokesperson said.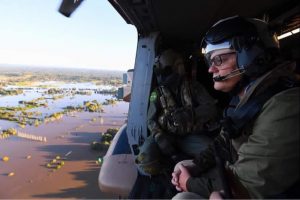 When the sun finally peeped through the clouds, Prime Minister Scott Morrison did a flyover of western Sydney to survey the damage. "Early this morning I visited Western Sydney to see the devastation of the extreme flooding hitting the area. The scale of the damage is significant and I'm committed to continuing to provide all support necessary," Mr Morrison said. "I took briefings from the Australian Defence Force (ADF) and people in the community assisting with the recovery to get a better understanding of the issues. "Our ADF are providing direct support to the search and rescue efforts and logistical support to air and water movements with the SES in the area."
From the sky above, the Prime Minister got a view of the magnitude of devastation – particularly for our neighbours in the Hawkesbury, many of whom were cut off. "I was briefed on the issues facing the local community in North Richmond and the need to improve food supply to local supermarkets," he said. "Emergency Management Australia, supermarkets and the SES are working on the issue closely and I have ensured heavy load helicopters are available to transport food and any other items, should they be requested."
Once the immediate threats that communities were battling started to subside, the Prime Minister visited communities and congratulated the SES and RFS units on a job well done.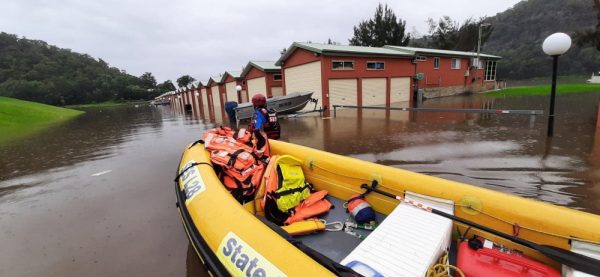 SES Community Liaison Officers, along with Rural Fire Service volunteers, have been speaking with and checking on local communities. "Our Rapid Damage Assessment teams will also be visiting affected areas to identify property and infrastructure damage. This will allow us to direct our efforts and resources where they are most needed," an SES Spokesperson said. "As we move into recovery over the next few days, you will continue to see our volunteers out and about, so come say hi," the SES Spokesperson said.
With the flood clean up underway, it's important to take steps to keep safe:
Unplug all electrical appliances affected by water and have them inspected by a licensed electrical contractor before using them again.
Take extra care around your switchboard. If you're unsure about your switchboard's safety, steer clear and call your licensed electrical contractor.
Take care when cleaning up, as fallen powerlines hidden in branches, debris or water can be extremely dangerous.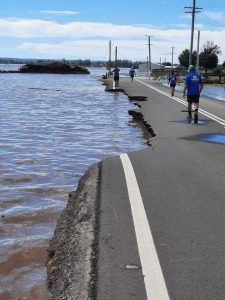 Don't take chances. If you find a fallen power line, keep well away, warn others and call the electricity distributor in your area or emergency services on 000.
For more tips on how to keep safe while cleaning up after a flood, visit our website www.ses.nsw.gov.au.
Need an excuse not to drive through flood waters? Let this be it! (see photo of Freemas Reach Rd). As the water is slowly receding some of the damage is starting to become apparent. The image shows what is left of a section of Freemans Reach Rd.
At this stage it is too early for council to assess the damage but its safe to say it may be out of action for a little while. There could still be much more damage further along.
For emergency help in flood, storm and tsunami call 132 500. For life threatening emergencies call 000.