The word "mud" is well known to your writer. Muddying the waters, mudlark, mudguard, your name's mud, muddle-headed, mud-throwing, here's mud in your eye and stick in the mud. I even know that mudarma is a shrub and a mudir is the governor of a Turkish village or Egyptian province. But until meeting Kurmond's Allyson Adams, I was totally unaware that there was such a thing as mud paint.
My immediate thoughts were of bikini-clad women wrestling in a mud pit but Allyson soon put to bed those ideas by producing a can of mud paint.
"What were you thinking just then," she queried.
As truthful as ever I replied, "oh, nothing – but tell me about this mud paint".
And so she did!
Allyson, a former long-time Hills' resident before moving to Kurmond in 2015,  is an authorised distributor of MudPaint which she imports from Boise, Idaho. MudPaint is an eco-friendly, unique clay-based formula with natural earthen materials and provides a smooth matte finish. "Minimal prep work is required, it is just easy to use, fast drying, and adheres to any surface including wood, metal and glass," Allyson explained. "It has great coverage so most customers only need to use one coat – just a little goes a long, long way! "MudPaint comes in 33 colours which can also be mixed to achieve customers' own blends."
"Alright, already – enough of the plug for paint made of mud – let's talk about you and what you are doing here in what I am presuming is your favourite place," I laughed.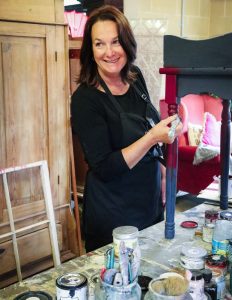 "Here" is Allyson's "old2bold" studio and showroom at 1352 Kurmond Road, Kurmond where she works her magic on restoring, well, old things. Old things such as tables, chairs, armchairs, settees, window frames, doors, mirrors, sideboards – the list goes on. And on and on!
"Clients have realised the workmanship and quality of the wood and other materials which went in to making furniture and other household goods many decades ago, so instead of discarding it because it is looking tired, they are having it restored and given a new lease of life," Allyson said.
Allyson has only been operating her business since early 2019 and her superb skills have attracted delighted clients from far and wide. The quality of her work is so impressive that local businesses are thrilled to have them on show at their premises.
"I originally had pop-up shops in Kurrajong Village and Windsor Mall but prospective clients can now view my works at Schembrae's restaurant in Kurrajong Village and at Richmond's Bank Bazaar," she explained.
You can also witness the quality of Allyson's restorative skills at satisfied customers, Chapel Hill Retreat at Berambing, Cook's Co-Op at Sackville and the "ye olde" section at The Fiddler Hotel.
The Fiddler loved what Allyson does and hired her to supervise a complete restoration of the original inn and the adjacent area which has a 19th century theme. "During Covid last year, I worked with teams of four Fiddler employees who were on JobKeeper, cleaning and polishing every inch of the place," Allyson said.
"The hotel has an amazing hoard of antiques such as tools, fiddles, penny-farthing bikes, jugs and bottles which were also cleaned and polished, catalogued and proudly placed on display."
Allyson had told me that she worked for many years as account manager for hearing health care specialists, William Demant Holdings, so naturally I enquired about the switch in occupations. "It was through grief," she said. "Over a short period of time I lost four significant family members and it was really taking its toll on my health. "My husband, Martin, was responsible for steering me back from my despondency.
"I was a creative child and have always loved doing a variety of crafts such as painting whatever I could get my hands on including T-shirts – I just loved using my hands and working with colours.
"At Martin's patient urging I quit my job and he and I transformed our large two-car garage into a workshop where I could work with my hands, doing something which has always been my passion." "The move worked and it certainly aided me immensely in getting my life back on track."
Allyson sourced her goods from various venues including garage sales and from stacks of unwanted stuff left on the roadside awaiting council pick-up. Over 12 months, the workshop began to fill with restored furniture and other household goods and Martin, an engineer, who, when at home has been roped into old2bold as, yes, master woodcraftsman, suggested Allyson commence marketing her wares.
It was certainly a good suggestion because old2bold is gold!
Allyson has recently commenced regular Eat-Paint-Laugh workshops – five-hour sessions where she gives a tutorial, the guests then work on their own pieces or a piece provided by old2-bold and during the day, feast on a light snack and quench thirsts with tea, coffee or perhaps a glass of bubbly.
Bookings are essential for the Eat-Paint-Laugh workshops – for further information on all things old2bold ring 0416 049 334 or go to the website at old2bold.com.au.
Just like her works, life has been restored to Allyson through the creation of old2bold.
"I'm blessed to have my work here, and the love of Martin and blended family of five children and being a
proud 'Gigi' to our six grandchildren," Allyson said.