So, way back in late 1983, Robert "Jacko" Jackson and a couple of friends decided to head over to Sunny Lunny (London), buy a Kombi and spend six months travelling around Britain and Europe. There was obviously something over there that took his eye because he was away from the Land Down Under for 12 years.
What "took his eye" were the opportunities to play professional rugby league. Anyway, Robert hung up his well-worn footy boots at the end of the 1993-94 English Rugby League season and accompanied by his wife, Danielle returned to Sydney.
Always renowned as a hard worker both on and off the football field, Robert spent 12 months selling cars at a Mitsubishi dealership before moving into supervisory roles in the warehouse and transport industry.
"I worked in those roles until the end of 2016 when I was given the opportunity to get into this," Jacko said, fanning his hands. "This" is the Kings Park premises occupied by Grippy Rubber Products which has now superseded two rugby league fields as Jacko's favourite venues. Those footy fields are Penrith Park (or whatever it is they're calling the joint this year) and Wilderspool Stadium, which was Warrington RLFC's home ground for over 100 years before relocating to new premises in 2004.
"It is my favourite place because it is the first business I've ever owned and it is close to our home at Quakers Hill," Jacko explained.
"Both Penrith Park and Wilderspool hold fond memories for me – I loved my footy – still do – and I got a real kick out of playing in front of probably the most vociferous and passionate supporters in the game.
"But this is my favourite place – fair dinkum, my own business and just a cooee from home!"
I asked Jacko what the story was behind his going into his own business. "I was just about to fly over to England for the 30-year reunion of Warrington winning the English premiership in 1985-86 when I received a 'phone call out of the blue from Vance Kelly, who was working for his parents who owned Premier Rubber, a manufacturing business at Auburn," he explained. "He asked was I interested in managing Grippy Rubber Products, the company's retail arm at Silverwater so I headed off to Warrington thinking about not only having a great time with old mates but also about the wonderful opportunity being offered by the Kellys."
It turned out to be a momentous sojourn back in Warrington, as not only did Jacko have a memorable reunion and make the decision to accept the Kellys' offer, but he was also "wonderfully surprised" to be inducted into the Warrington Wolves' Hall of Fame.
Back home a few weeks later, Jacko commenced working as the manager of Grippy Rubber Products, a position he maintained for 14 months until July 2017 when Vance's parents, who were retiring, offered to sell him the business.
"I loved the work and could see it had a great future so I gratefully accepted their offer," Jacko said.
He continued operating at Silverwater until early March 2019 when he relocated to Kings Park along with his right-hand man, Max Hotellmann, who, as he lives in Marayong, was also thrilled with the move.
If it is made of rubber, Grippy Rubber can supply the product to home owners, customers in the marine, automotive and industrial businesses. "No item is too small or too big," Jacko said. The company services customers in all states and territories, across the ditch to New Zealand and throughout South Pacific nations.
So, who is Robert "Jacko" Jackson?
He was born 60 years ago in Crown Street Women's Hospital and was raised in Lalor Park, attending Seven Hills West Primary and then Blacktown High from where he graduated with his HSC in 1978.
"After leaving school I worked in an office job in the city but after a year I knew I wasn't cut-out for that type of work," Jacko said.
"Over the following four years I worked as a barman and in a variety of labouring jobs, including roof tiling." During that time, the superbly fit and built-like-a- brick-outhouse Jacko was building a reputation as a rugby league player. He had played soccer until switching in his late teens to rugby league, running on for the Lalor Park Kookas C Grade (under 19) side in 1979.
"I played reserve grade in '80 and then the following year played A Grade for Blacktown St Patricks and also made the Penrith Presidents Cup team which went on to make the semi-finals," Jacko recalled. Jacko was graded with the Panthers and during his time at Penrith (1981-83) the rugged backrower played four first grade games and made several appearances off the bench.
But it is in England where Jacko's career really took off.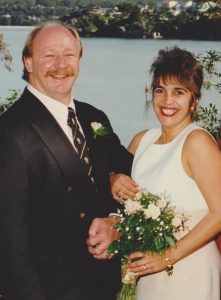 "I played eight first grade games with London club, Fulham, before heading off with my mates in that Kombi," Jacko said. "After returning to England I contacted Warrington and joined them for the 1984-85 season and had a great season and was named Player of the Year. "The following season we were boosted by the signings of top-class Aussies Brian Johnson, Les Boyd and Phil Blake as well as Kiwi international, Kevin Tamati. "Warrington had a terrific side and subsequently a highly successful season, capped by us winning the English Rugby League premiership!"
Jacko continued playing for the Wolves until the end of the 1993-94 season when two cracked vertebrae in his neck forced him to hang up the boots after nine fulfilling seasons in English footy. During that period, he played alongside and against many great players including Mal Meninga, Brett Kenny, Eric Grothe, Peter Sterling and "The Black Pearl", Ellery Hanley.
He played 224 games for the Wolves and became a crowd favourite for his work ethic, courage and skills.
Jacko also played six games during a short stint with Cronulla Sharks on a visit home in 1986 during the English off-season.
Jacko still loves his league and is an ardent Wolves and Panthers supporter.
His other main interest besides his darling wife, Danielle, and keeping in touch with daughter, Rebecca and grandchildren, Brandon and Aurora in England, is swimming every Sunday morning with fellow members of the Seven Hills RSL Swim Club.
Robert "Jacko" Jackson considers himself a very fortunate man.
Author: Greg Martin