James Brice is a man who wears many hats. He is a teacher, a conductor, a husband and father and the latest one he can add is joint Hills Citizen of the Year.
Along with this local award he recently received Life Membership of the Band Association of NSW of which he has been part of for over fourteen years.
Both awards were well deserved and after you read about James and his dedication to his pupils and band members, you will understand why.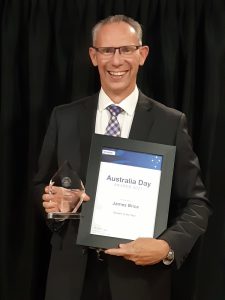 James has always been interested in music, he played euphonium from the age of eleven at high school in Melbourne. He continued his studies of the instrument and went on to conduct from the age of fourteen.
When he left school, he went to university where he continued to study music.
In 1996 he moved to Sydney to take a full-time position in the RAAF Air Command Band. In 2007 James left the RAAF Air Command Band and took up the position of Head of Performing Arts at Knox Grammar, where he is still teaching to this day.
As well as his paid employment, James sought to further his passion for music and teaching by taking up the position of Musical Director for Castle Hill RSL Youth Wind Orchestra (YWO) which is for children from 11 to 18 years old, and North West Wind Ensemble.
The North West Wind Ensemble started in 2003 and is for adults, with many of the children from YWO graduating on to become members. Since becoming the Musical Director for the bands, James has led them to nineteen NSW State and National Championship wins.
Last year, with COVID and the lockdown, it was obvious to James that in true theatrical fashion, 'the show must go on', albeit in a different way than normal.
He felt that his students would benefit from the continuity of band practise and keep them positive during such an unforeseen time. Doing so meant a great deal of work for him, but he was convinced it was the only thing to do.
"We tried quite a few strategies, first was through Zoom, but at that point in time it was rather new to everyone. Then I set up interactive online rehearsals, innovative rehearsal and motivational strategies involving 'click track' recordings and interactive direction," James told me.
"There was still the sense that we were together. I was scrolling through the screens, still giving feedback as I could see their level of engagement, even without hearing."
These click tracks, which are a series of audio cues to synchronise the musicians, took James a great deal of time to set up. At one point he told me he was working more than 20 hours a day to ensure the musicians who looked to him for leadership had these tracks in place to aid their practise.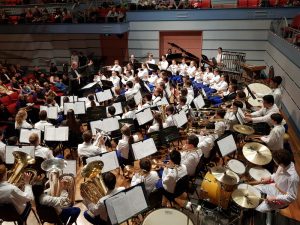 The musicians under his tutorage weren't the only ones to benefit from this drive to succeed. James wrote papers on how to continue teaching which were used by other conductors and teachers to convince their schools or orchestras to continue. All of which James can now look back on and feel a great sense of accomplishment.
"I am exceptionally proud to have been able to provide our musical community with every opportunity available in which to remain engaged, inspired, motivated, supported and healthily connected throughout this difficult year," he told me.
Not only did James continue his band practice but he managed to set up recordings with his orchestras, which he felt was just as important as rehearsing.
He found the recordings and rehearsals really motivated everyone in the orchestras and helped retain their attendance. In fact it went so well, they even attracted new members!
"I set up recording projects, rehearsals are part of it but performance is another part. Musicians had to use a particular iPhone to get continuity but it helped to motivate all of my musicians to do the very best they could," he explained.
"After recording we mixed the audio and video and released a number of isolation videos so we could be seen by a worldwide audience."
Both bands have their own YouTube channels.
The YWO channel is www.youtube.com/channel/UCt_bfiwsiizhO9_od4UG7Zw/videos which features a variety of videos, including The Symphonic Gershwin, Albanian Dance and At Kitty O'Shea's as well as African Symphony which was their isolation project last year.
When lockdown protocols were eased, James set up face to face rehearsals where possible. They rehearsed in parks, gardens and eventually were allowed back inside in larger groups.
"The return of permissible community 'face to face' rehearsals supported by our highly detailed comprehensive COVIDSafe Plan for Community Bands, paved the way for our outstandingly positive continuity and growth throughout the pandemic," James commented.
This consistency of regular practises, even in their altered formats, has ensured both the Castle Hill RSL YWO and the North West Wind Ensemble were in their best form when they were allowed to gather again as full orchestras. James puts their determination to keep working through the pandemic as a key component to their continued success, but James knows he didn't manage this himself.
"Without doubt, one of the most notable aspects of YWO's brilliant attendance, extraordinary success as NSW State Champions, and exponential musical growth was due to the extraordinary commitment and investment retained from our senior 18-19 year 'recent school leavers'.
"These highly experienced senior members provided outstanding musical leadership for all current and newer players, some of whom as young as 10-11 years of age!"
The orchestras continue to work hard and James told me of their recent performance projects which will put them in the running for the 2021 Australian National Online Band Festival.
Both bands have submitted entries to this online festival, which has taken the place of the Australian National Band Championships and can be viewed on YouTube over the Easter weekend.
For more information on the championships, visit: nationalbandchampionships.com.au.
Author: Lorna Gordon