"We could hear 'chuffing' in the bush and had disturbed a sun bear. It chased us and we had to run through the jungle in the middle of the night!" Ben Dessen
by Lorna Gordon
Snakes and lizards may not be everyone's cut of tea when it comes to pet's but for Ben Dessen they have always held an attraction.
Where most kids want a puppy or a kitten, Ben's fascination with reptiles began at an early age when he got his first snake at just six-years-old.
His parents, understanding that his love of reptiles was important, gave him a pet hatchling children's python, called Rosie, for his birthday.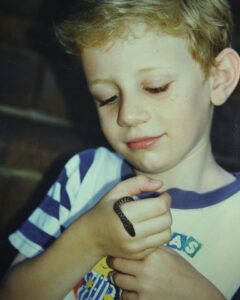 Ben explained where his love of these creatures comes from.
"Rosie is a children's python, small native species of snake North Qld. They are small, only 1 m long, docile and easy to handle. I had been to the reptile park and loved the snakes, my parents encouraged this and got her for me."
From this small start, learning to look after Rosie, Ben followed his passion for learning about animals and took subjects at school that would allow him to study Animal Science and Conservation Biology at the University of Sydney.
Before he graduated with distinctions, Ben was lucky enough to be chosen for an adventure of a lifetime, to help establish an orangutan orphanage and rehabilitation centre in Borneo.
"It sounds cliched, but it was a life changing experience. I came across the application from an organisation looking for 11 young people to work with the local people to help orangutans in Borneo. We had to find out what the local people wanted then go back to our own countries to figure out solutions and do the fundraising to start the project. The biggest thing I was involved in there was rescuing Jojo a baby orangutan. She was one of the first to be released into a protected rainforest area and has basically been an ambassador for the whole project. One animal had told the story."
Since his first trip to help set the orphanage up, Ben has been back to Borneo many times to continue his work there and help support the local volunteers. It was also the place of his scariest animal encounter, Ben and some other people had been scouting in the jungle at night, when they disturbed a local resident.
"We could hear 'chuffing' in the bush and had disturbed a sun bear. It chased us and we had to run through the jungle in the middle of the night! Sun bears are the smallest bears in the world, but they are still big enough to look you in the eye."
Thankfully Ben and his friends lived to tell the tale and had an amazing story after their surprising encounter.
When Ben finished university, it was time for him to get a job and he worked at the Australian Reptile Park as a keeper. Part of his job was to educate visitors to the park at the regular shows they have on different reptiles, at one show he told me about an unfortunate experience with one of the animals.
"While I was working at reptile park, I was doing a talk about our Galapagos tortoise in front of a large crowd of people. The little microphone was usually hands free but it had broken so I had to hold it with my hand and I feeding the tortoise a carrot. The tortoise had finished the carrot and bit my thumb instead, he could have sliced my finger off without a second thought, but I managed to get my thumb out and blood was going everywhere. I explained to the crowd that's part of the job, but I had to call the show short to fix myself up."
From the reptile park, Ben went to Kellyville Pets, where he had been working on and off since he was at high school.
"I've worked at Kellyville Pets for 15 years, through school and Uni. I'm now there full time as the Manager of the Reptile Department and we have got one of the biggest collections of reptiles in the world."
As well as managing the department, Ben would regularly hold training sessions in the pet shop to teach people how to care for their precious pet's correctly, as reptiles need specific care to help them thrive. Covid stopped this side of his work so Ben and the team at Kellyville Pets came up with a new way to reach their customers, a new venture called Petopia ® which is an online animal masterclass.
"Petopia ® was born out of Covid and I'm really proud of them. I've been running educations courses for over 15 years, we had training courses in store where we did an intensive in person session. With Covid we couldn't physically have people in store or in the training room and we were originally going to do a zoom, but we thought we could do something so much better. We realised there was nothing online to educate people who want to keep various pets and created the masterclass to fill the gap. They are a good combination of entertainment and education. We are proud to make them in house with our own team, they are available online through the website, so we can now reach beyond the hills district and local area."
Ben's enthusiasm for animals doesn't stop at his day job, he volunteers his time to help out at the Zambi Native Wildlife Sanctuary in Dural, where he is the Sanctuary Manager.
The sanctuary rescues, rehabilitates and releases native species such as reptiles, possums and kangaroos. He is also a volunteer at Sydney Wildlife Rescue and is on call 24/7 to relocate reptiles, including venomous snakes.
If you are interested in having a reptile as a pet, head to Kellyville Pets where I'm sure Ben and his team would be more than happy to help you chose the right one for your family. To find out more about Petopia ® go to the Kellyville Pet's website at kellyvillepets.com.au.
Main picture: Ben loves hanging out with all the reptiles at Kellyville Pets where he works. Photo: Kathryn Johnston.