"It was a fraught time for all of us because we weren't permitted to carry weapons whereas the Indonesians and the FPM forces were armed to the hilt." Graeme Simms
By Greg Martin
She Who Has Never, Ever Been Disobeyed sent yours truly on a mission to "find me petunias" and my first port of call was her nursery of first choice, Joy Leader's East Kurrajong Nursery which she has operated for 45 years.
As is my want, after Joy explained, "yes, she has no petunias, she has no petunias today", always on the lookout for a story, I asked she who has green thumbs, could I feature her as one of Hawkesbury's Finest subjects.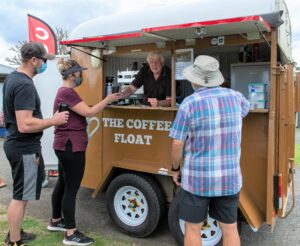 "Nice of you for asking Greg but I like to fly under the radar but once again, thank you thinking of me," Joy replied.
As I was exiting the gate, a nice-looking gentleman, called out: "I sell flavoured coffee beans – you could do a story on me".
The nice-looking gentleman turned out to be Joy's partner, Graeme Simms, and being a gentleman of note myself, I patiently listened to Graeme as he enthusiastically talked coffee beans.
I must admit I was thinking I could do a small article on Graeme and his beans but then as the conversation progressed and Graeme told me a bit more about himself, he had me hooked, gutted and sizzling on a hat-plate.
Love it when stories land in my lap!
There's much, much more to Graeme Simms than being a purveyor of exquisitely flavoured coffee beans.
Originally from Perth, Graeme has crammed several lifetimes into his 68 years.
He served 20 years in the Australian Army, had four-year stints with NSW Department of Administrative Services (DAS) and Thomas Nationwide Transport (TNT) and then ended his career working for a pay packet by spending 18 years in NSW Corrective Services.
On the right side of the cell doors!
Graeme is a man who adheres to the old saying – "use it or lose it".
Since retiring in 2017, he obviously helps the delightful Joy around the nursery and established Coffee Connex, a business which markets a huge variety of Colombian-grown flavoured coffees which delight the senses.
Coffee Connex markets 26 flavoured coffee beans and another three decaffeinated varieties including Chocolate Macadamia, Caramel Fudge, Cinnamon Hazelnut, Irish Creme, Tia Maria and the very popular Blue Mountain which Graeme says has "a hint of chocolate".
Coffee Connex also boasts an innovative mobile Coffee Float – Graeme converted it from a 1988 horse float – from which he sells patrons cups of coffee, his flavoured coffee beans, chocolate-coated coffee beans and the most imaginative origami cards you, well, could imagine.
Graeme purveys his plethora of products at farmers and produce markets in Richmond, Cobbitty, Lawson, Glenbrook and Blackheath and online at coffeeconnex@hotmail.com and further information can be obtained on the coffee Connex Facebook page.
Enough already plugging this Count of Coffee and let's go back to where it all began.
That was back in Perth where he lived with his mother, stepfather and their brood of 11 children until he joined the Australian Army in 1971 as an 18-year-old.
I digress for a moment. Graeme's mum, Edna, is still hale and hearty at 93 and this renowned artist is still producing superb artwork on canvas and ceramics.
"After leaving school I completed two years as an apprentice carpenter but I realised that career wasn't for me so I joined the army and after basic training at Kapooka in Wagga Wagga, I trained as a motor mechanic with the Royal Australian Electrical and Mechanical Engineers," Graeme explained.
"It was a great training ground and I learned to work on everything from tanks and armed personnel carriers to cars and motorbikes."
Over the ensuing years, Graeme had postings to Sydney, Brisbane, Perth, back to Sydney and during those years furthered his education by gaining a Diploma Automotive Engineering and rose to Warrant Officer Class II.
He had one overseas posting at that time, spending seven months in Irian Jaya (West PNG) as a member of the peace corps during the conflict between the Indonesian Army and the Free Papua Movement.
"It was a fraught time for all of us because we weren't permitted to carry weapons whereas the Indonesians and the FPM forces were armed to the hilt," Graeme said.
"After we finished our posting and our 'plane touched down in Darwin, I walked down the stairs, bent down and kissed the ground, so happy was I to be back to home to safety."
After being demobbed in 1991, worked for four years as Workshop Controller for the DAS and then after accepting a redundancy, he spent another four years as Workshop Supervisor for TNT Forklifts.
In 1999 Graeme was back in uniform with NSW Corrective Services at its Silverwater Remand Centre where he toiled for 18 months before being transferred to Long Bay Correctional Centre.
He was at Long Bay for 10 years during which time he became heavily involved in working with units specialising in looking after the interests of inmates.
"I worked with a number of units working with sex offenders, violent offenders, inmates wanting to self-harm and those inmates who had physical and mental disabilities," Graeme said.
In 2010, Graeme was transferred to the Francis Greenway Correctional Complex at South Windsor, rising to become the Senior Correctional Officer looking after the interests of staff and 130 women inmates in the Dillwynia wing of the complex.
"I intended retiring from Corrections in 2017 so a few years before that I started looking around for something to help me keep the old mind ticking over once I had retired," Graeme said.
"A door opened on a trip back to Perth in 2015 when I was browsing around the weekend Fremantle markets and stopped to chat with a bloke selling flavour-infused coffee beans.
"I bought a couple of packs of different flavoured coffee beans and back home in Sydney, liked what I was drinking and thought 'there's an angle in this'."
A year later Graeme was back in Perth where he contacted the blender and the pair came to an agreement in which Graeme would market the flavoured coffee beans in Sydney without the trials and tribulation of becoming a franchisee.
Graeme married in 1980 and he and his now former wife are parents of three children and grandpa and grandma to three grandchildren.
He and Joy Leader met four years ago through one of Graeme's work colleagues who was married to Joy's brother, her next-door neighbour on East Kurrajong Road.
The couple now go together like hot water and Connex Coffee beans!
Main picture: Graeme Simms, the man who has lived many lifetimes. Photo: Kathryn Johnston.