"We bleed the same. We breath the same. Let's unite as one." Solomone Fotu, Rap 4 Change.
By Greg Martin
As is my want as I drive home after visiting subjects for interviews, I ponder. And ponder and ponder what will be the lead paragraph in the story?
But most of the way home from interviewing this 18-year-old gentle giant at the St Clair home of his mentor, Ned Narouz, all I could do was pretend I was a hot rapper and chanted a short rap (is that what they call rap songs?) Solomone had earlier sung for me.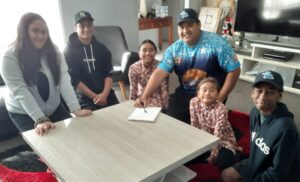 "We bleed the same
We breath the same
Let's unite as one."
Solomone is a volunteer mentor for Rap 4 Change, a small-scale charity providing leadership, mentoring, sports and music programs that assist disengaged and at-risk youth.
This young man was heading for trouble, perhaps injury in a "blue" or a stint in the clink until Ned Narouz steered him onto a path which Solomone calls "redemption".
Ned spent time on the wrong side of the bars in prison as a juvenile before getting his life back on track by finding a job and a boss who was an inspirational mentor.
Life was good for Ned Narouz – he saved up to buy his own home, life brought him joy and it was a joy he wanted others in our community to experience.
He created Rap 4 change in 2016 – he is the CEO, Free Isaia is his right-hand woman and they are strongly supported by 15 passionate and hard-working mentoring volunteers.
"We create pathways for education and employment opportunities, provide rehabilitation programs to assist youth who are under the influence of drugs and alcohol, self-harm and mental health," Ned explained.
Rap 4 Change also aids people who are financially disadvantaged, homeless, unemployed, victims of violent crimes and people with disabilities.
"Solomone and the rest of the team are able to build a good connection with the young people and help educate them on life skills and how to achieve success the right way," Ned said.
Solomone came under Ned's radar two years ago when one of the young fella's cousins asked him to contact Solomone and try and steer him away from wrong onto the right path.
"I was hanging around with the wrong sort of people," Solomone explained.
"I wasn't doing any mischief but they were and I suppose it was a matter of time before I got caught up in their activities. Ned came along at the right time and thanks to him I decided to finish my HSC at Plumpton High and since graduating, through his contacts at the Department of Education, he helped me secure a teacher's aid position at Colyton Public School.
"I absolutely love the job and really missed working with the children during the recent long lockdown. I help the pupils with their reading, writing and maths but I especially enjoy just listening to them and just engaging with those who are having learning difficulties.
"No matter what age you are it is always rewarding to know that the person you are talking to is hearing, if you know what I mean."
Despite his workload at school and mentoring role with Rap 4 Change, Solomone, who is of Tongan heritage, still finds time by currently helping develop a 10-week Pacific Islanders mentoring leadership group.
Folks, it was an absolute pleasure for your writer to meet with Ned and Free, who brought along her children to be included in the accompanying photograph.
Intelligent, cheerful and with a fervent love for his fellow man, Solomone gives you hope for human kind.
Solomone and his older brother, Sione, have done their parents, mum Lesley and his late father, Filisione, who sadly passed in 2014, proud.
Sione works for Pacific Health and Wellness which is a registered provider of National disability Insurance Scheme services for those with disabilities.
I asked Solomone, who had already rapped out his little rap song, if he had any other interests.
"I love rap of course but all types of music appeal to me – rock 'n' roll, rhythm and blues, country and hip hop," Solomone said. "And I'm a true-blue, one-eyed South Sydney Rabbitohs supporter!
"Rap 4 Change has also created two sporting clubs in 2018 to compete in local competitions – the Mount Druitt Lions Junior Rugby League Club and Mount Druitt Lions Baseball Club. I love rugby league but I prefer to watch than play the game but I am into baseball!"
Ned Narouz, gave a raucous laugh and said: "is he ever!".
"When he connects bat to ball, the ball doesn't want to return to the game," Ned laughed again.
As well as smacking home runs on a baseball field, Solomone Fotu is doing the same in life.
Main picture: That's our boy! Solomone Fotu with two admirers – his cherished mentors at Rap 4 change, Ned Narouz and Free Isaia.