"I was a shy and timid kid but I never took a backward step and could never tolerate bullies." Danny Eastwood
by Greg Martin
Clint Eastwood, as Dirty Harry, let his .44 Magnum "the most powerful handgun in the world" do his talking.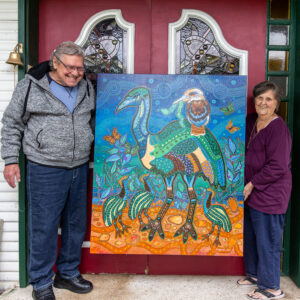 Danny Eastwood's right hand – and left hand for that matter – do his talking, but not holding onto a pistol but with paintbrushes, pencils – in fact anything with which he can create his magnificent art.
And magnificent it is – just have a gander at the two accompanying photographs!
The 78-year-old, a proud descendant of the Ngemba Aboriginal tribe way out in western New South Wales, is world renowned as a creative genius.
Danny, who resides at his Mt Druitt home of 43 years with "the love of my life", wife, Pam, is a painter, sculptor, wood carver, teacher, mentor and, using my old mum's apt description of a decent and kindly human being, "he's a real nice man".
Danny's creations on canvas, walls, floors, trees and at the potter's bench have won acclaim – and sales – throughout Australia and further afield.
Much further afield in fact, with his works proudly on display in homes, offices and museums in England, Germany, Spain, Argentina, Portugal, China and Vietnam.
In this country, Danny's art is displayed in homes, offices, hospitals, council chambers, museums, art galleries, parks and on street-scapes.
And on cups, watches, ornaments, T-shirts, jumpers, bikies' leather jackets and even on 400 Coca-Cola bottles which he was commissioned to paint for the monolith company's promotional department.
Danny has contributed thought-provoking cartoons, – humorous and serious – to the Koori Mail since its inception in 1991 – the newspaper is produced fortnightly and distributed to more than 100,000 readers across the nation.
He's also spent time in the clink at Long Bay, Francis Greenway (John Morony), Silverwater and Emu Plains prisons.
Not as a prisoner of course but as at art teacher and mentor to those who who had strayed off the rails.
Many of whom turned their lives around after learning art and life from their much-admired mentor!
Danny's artistic skills have earned him a plethora of awards down the years including National Aboriginal Artist of the Year, NSW Aboriginal Artist of the Year (twice), the NSW Parliament Indigenous Art Prize, NSW NAIDOC Award, the National NAIDOC Aboriginal Artist of the Year, Blacktown Aboriginal Citizen of the Year (2018) and first prizes in the NSW Parliament Award and the NAIDOC Poster Award.
But for this humble, self-effacing man, just creating his works of art with fertile imagination and those dexterous mitts is his true reward.
Danny (where does he find the energy) has, since moving to Mt Druitt with Pam and his three children, Jamie, Trevor and Melinda, has always been heavily involved with several local foundations striving to improve the lot of the large local Aboriginal community.
It is only in recent years since retiring from the workforce – there was never a time in his life since he was 13 that he hasn't been employed – has he been able to solely devote his time to his art.
"The family – my parents, Dave and Moira and my four brothers and three sisters – were living at Bradfield Park near Lindfield – it wasn't a posh suburb back then –and our house backed onto Lane Cove National Park," Danny said.
"Previously we lived in slum ghettos in Redfern and Waterloo before the (Housing) commission moved us to to Bradfield Park where we firstly lived in old army barracks before getting a house.
"I loved it there – roaming over just about every inch of the national park and getting to learn about the flora and fauna.
"It was that time spent in the park which gave me a love of nature and the bush."
"I worked in numerous jobs since I was about 13 and a half, firstly helping a bloke down on the Lane Cove River who hired out row-boats, then as a storeman and in motor parts before becoming a fireman with NSW Fire Brigade when I was 30," Danny explained.
Despite leaving school so early in life, Danny always had a thirst for knowledge and was a prolific book reader.
"Maths books, books on English, motor vehicles, art of course – in fact anything which would educate me," he said.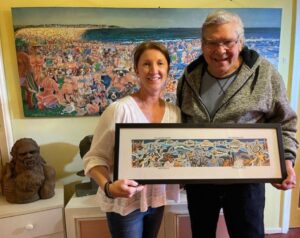 His love of art was bestowed on him by his father who Danny describes as being as talented in art as he was in boxing.
"He began teaching me both crafts when I was four-years-old – he was a great mentor in both," Dave said.
"The boxing training certainly came in handy during my schooldays.
"I was a shy and timid kid but I never took a backward step and could never tolerate bullies.
"There were a couple of occasions during my younger days when those boxing skills learned off dad helped me put bullies in their place and on their arses."
Danny's bent for art was given a boost when, at 18 he won art scholarship to East Sydney Technical College.
"I soon learned it wasn't my scene – too arty-farty and mixing with those Bohemian types was not for me."
So like many before and since, Danny developed and honed his amazing artistic skills by "working" in the craft – always part-time until retiring from the NSW Fire Brigade.
During the interview and the later photo session with our photographer, Kath Johnston, Pam was always in attendance and helping out with snippets of information including the date of their marriage.
"It was on May 25, 1968 just after I turned 18," Pam said, as she and her husband exchanged beaming smiles.
"We met at Stanley Owens Bookbinding store in Wynyard, when I was just 14 and working as a bookbinder and Danny was one of the storemen."
It was only natural that the couple would be bound together!
Both Jamie and Trevor, a fireman stationed at Penrith, also display artistic abilities but not so Melinda, however her daughter, Tarnie-Rose May, one of Pam and Danny's eight grandchildren, has inherited her grandfather's skills with a paintbrush
Despite both Pam and Danny having their share of ill health in recent years, both are still in fine spirits and "battling along".
I love this job because every month I get the opportunity to meet people who have contributed to making lives better for their fellow man.
Danny and Pam Eastwood are no exceptions – and as dirty Harry said, meeting them did "make my day".
Main picture: Danny and one of his creations, a superbly-crafted sculpture of an aged Aboriginal warrior. Photo: Kathryn Johnston.