"The stallion immediately became frisky, reared up and one of its giant hooves smashed into my mouth, cleanly knocking out four of my top front teeth." Jeff Levy
by Greg Martin
When I was a kid, westerns dominated Australian television.
We grew up watching Rawhide, Cheyenne, Bronco, Gunsmoke, Sugarfoot, Maverick, Have Gun Will Travel, Bonanza, Wagon Train, The Rifleman and The Lone Ranger to list but a few.
Another was Fury "King of the wild stallions" in which the main characters after the horse were rancher, Jim Newton, and his top hand, Pete Wilkey.
In the voice-over introducing episodes, the narrator mentioned that "Pete cut his teeth on a branding iron" and each time I heard that I thought:" Crikey, Pete must be some tough hombre".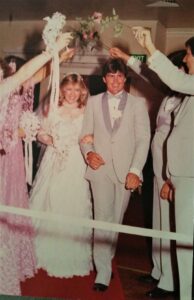 Back then we used that sort of lingo such was our indoctrination into the western genre.
I mentioned this to Master Farrier No 125, Jeff Levy, whom I had asked if he had sustained any injuries during his nigh on 50 years tending to horse hooves.
"I've had my fair share of stitches, been bruised on many occasions and lost a fair bit of bark (skin) over the years but fortunately I've only been badly injured just the once," Jeff replied.
"It was back in 2013 and I had just finished shoeing the front feet of this huge Warm-blood stallion when a stablehand walked past leading a filly.
"The stallion immediately became frisky, reared up and one of its giant hooves smashed into my mouth, cleanly knocking out four of my top front teeth."
Jeff spat out the blood and his dislodged teeth and calmly finished the job before heading off to seek medical treatment and eventually, four new fangs.
Crikey, and I thought Pete Wilkey was tough!
The 62-year-old master of his craft, is the fifth generation of Levys to make a living as a farrier and his, son, Daniel, has followed emulating his forebears in earning a living as a farrier.
The first of those ancestors to begin working with anvils, forges, bellows and tools such as knives, nippers and hammers, was Jeff's great-great grandfather, Henry Levy, who took up his trade as a young man in Lancashire before migrating later in life to Australia.
Following Henry into farriering was his son, Martin, who preceded in turn, Joe, Joe junior, Jeff and finally his son, 32-year-old Daniel, who honed his skills under the expert mentoring of his late grandfather and father.
Jeff is rightly proud that he, member number 125, his father (No 8) and Daniel (No 256) are classified as Master Farriers by the Master Farriers Association.
When you have been successfully shoeing and tending horses' hooves and feet for 45 years, you have to be doing the job right!
Down the years, Jeff has established a huge clientele base across the Sydney basin, especially in the Hawkesbury, Hills and Blacktown areas where he has clients who have been using his services since he became indentured to his father in 1976.
But he had been "working" at the trade since he was a toddler when he accompanied his father out to jobs and acted as his "gopher".
"Dad was a good teacher and he trusted me enough so that as I got older he'd have me pumping the bellows on the forge – something which would be frowned upon these days," Jeff laughed.
Jeff said he "had enough of school" by the time he turned 14 years and 10 months, and bid goodbye to Sefton High to commence a four-year farriers apprenticeship with his father.
"Dad was a master of his craft and was a great teacher and I have been able to pass on all that knowledge to Daniel, who did his apprenticeship with me.
"I worked with Dad for 20 years before going out on my own in 1996 and Daniel has gone along the same path, being indentured to me and then working together until he established his own business early in 2020."
Joe Levy, who sadly passed away after a long battle with Myelodysplastia (cancer), was an inspiration to his son and grandson through his work ethic and skills, which he continued to use until retiring at 72.
Jeff's skills extended far beyond hammering on horseshoes and cleaning and clipping hooves!
He has a real knack of being able to diagnose leg and hoof problems and says he enjoys working alongside veterinarians in pin-pointing problems and fixing them using his undoubted skills as a master farrier.
As is my want when taking notes for these stories, I asked Jeff, who spends six long days a week tending to horses, did he have time for any other pursuits.
"When I was a teenager I played rugby league and was handy enough to play junior representative footy with Canterbury-Bankstown where I played alongside future top-class players, the late Steve Folkes, Chris Mortimer, Geoff Robinson and Graeme Hughes," he said.
"But once I started work, I had to give footy away because aches and pains two or three days into the working week wasn't worth it!
His sporting interests turned to drag racing and water skiing – both sports which he still pursues to this day.
In fact it was drag racing and to a lesser extent, buying sausages, which led to Jeff meeting, developing a relationship and then marrying his wife of 38 years, Cheryl.
"I came home from work one afternoon and mum asked me to go down to our regular Welch's Butchery at Chester Hill and buy sausages for dinner," Jeff explained.
"When I walked into the shop, the blokes behind the counter were gee-ing up this attractive young woman and I smiled at the fellas and laughingly told her not to talk to them because they are sex maniacs.
"After we made our purchases, Cheryl and I talked for about 30 minutes outside the butcher's and, as I was already into drag racing, I asked her would she like to accompany me to the Castlereagh International Dragway the following weekend.
"Cheryl always had an interest in motor vehicles through her father, Harold Samuels, who was a wholesale car dealer, so she accepted my invitation and that was the beginning of our life together."
That life together has given them two sons – Daniel's younger brother, Joshua, is a diesel mechanic – and two grandchildren.
"You can call me a happy man," Jeff said.
"I'm blessed having a loving and devoted family and being able to earn a living doing something which brings me satisfaction every time I work with my equine friends."
With perhaps the one exception – that testosterone- fuelled Warm-blood stallion!
Main picture: A master of his trade is master farrier, Jeff Levy, tending to the needs of grateful Shetland pony, Bella, a long-time customer.