Councillor Mark Hodges has been announced as the new Deputy Mayor of The Hills Shire, after he was elected during an Extraordinary Meeting of Council last night (Tuesday).
"There is a lot of important work which Council will carry out in this term including the completion of important traffic infrastructure; the completion and opening of Waves; the completion of already commenced sporting fields and the commencement of new sporting fields and parks within our Shire," Cr Hodges said.
"I look forward to working with Mayor Gangemi in this term in the service of our community."
Cr Hodges joins Mayor Dr Peter Gangemi in Hills council's top team.
Mayor Gangemi was declared Mayor last December after winning the popular vote in the Local Government Elections.
Hills Council comprises: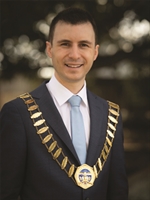 Mayor: Dr Peter Gangemi
Deputy Mayor: Cr Mark Hodges
Central Ward – Cr Jessica Brazier, Cr Mark Hodges, Cr Tony Hay OAM
East Ward – Cr Jerome Cox, Cr Reena Jethi, Cr Ryan Tracey
North Ward – Cr Virginia Ellis, Cr Mitchell Blue, Cr Mila Kasby
West Ward – Cr Rosemaire Boneham, Cr Frank De Masi, Cr Barbara Burton