By Maryann Jenkins. Pictures by Kathryn Johnson
Decades of commitment and selfless volunteering, some over generations of family, was honoured at the Hawkesbury District Agricultural Association (HDAA) awards presentation night on 29 January.
Attended by more than 150 people and all three tiers of government, the awards recognised completion of 10, 20, 30 and 40 years' continuous service for those who've made the Hawkesbury Show, which dates back to 1880, an unrivalled bastion of community values.
Honorary life membership medals were also presented to five outstanding recipients [more background details below].
Thirty-year plus veteran Diane Shaw perfectly summed up what the Hawkesbury Showground is to us – our 'Hawkesbury-ness' – what it means to be Hawkesbury.
"The Show is the heart of the Hawkesbury itself," she said when receiving her second service clasp.
"It's a group of volunteers doing so many different things in so many different ways – not just for the Show – it's a 'belonging' to all volunteers in fires, floods, the SES and community services. It's a commitment people make and it's a wonderful commitment where many great friends are made and many great young people come along.
"Keep your heart going, keep the young ones going [in volunteering]," urged Mrs Shaw, whose daughter, granddaughter and great granddaughter are proud volunteers.
2022 recipients were:
Dedicated and committed continuous service medal (DCCSM) presented by HDAA president Lyn Hudson:
Elizabeth Anderson; Penelope Fraser; Jennifer Harland; Annette Leck; Thomas McBurney; Rae McCully; Derrin McRae; Tony Meskauskas; Elizabeth Miller; Rachel Stephenson.
DCCSM First clasp presented by Mayor Patrick Conolly:
Phillip Close; Barbara Crook; Elaine Tracey.
DCCSM Second clasp presented by Hawkesbury MP Robyn Preston:
Jennifer Caterson; Robert Dreves; Margaret Johnson; Karen McLaughlin; Maggie Scott; Diane Shaw; Dennis Shipway.
DCCSM Third clasp presented by Hawkesbury MP Robyn Preston:
Colin Mitchell.
Honorary life membership medal presented by Macquarie MP Susan Templeman:
Lynette Matheson; Phillip Close; Colin Mitchell; Kenneth Ridge; Diane Shaw.
Recognition and committed services award presented by Ross Matheson:
Campbell Anderson; Don and Helen Webster; Thomas and Susan McBurney and family.
Honorary Life Membership Medal recipients
"These volunteers have contributed over, above and significantly greater than, what is reasonably expected"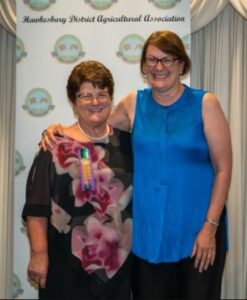 Lynette Matheson:
Lynette was endorsed as a member of the HDAA general committee in 2016 and freely contributed extensive, continual, committed and dedicated service for the past 44 years.
As a volunteer she continues to provide services such as grass mowing, whipper snipping, raking, shovelling and cleaning bins, toilets, pavilions to add to the general overall maintenance and beautification of the showground.
Lynette has been at the forefront ensuring food is available for working bees and volunteering days. She has given outstanding dedicated, committed support and assistance in every aspect to her husband Ross over the past 44 years that he has been a committee member, particularly in the executive positions of president, deputy president and vice president.
Phillip Close:
Phil has been a member of the general committee since 2000, has held positions of president and deputy president and is currently on the business management committee.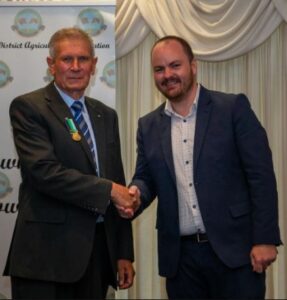 As an ex-police officer Phil had dedicated his time and expertise to the areas of emergency management including developing and implementing the first traffic management plan in 2005. He has developed the emergency procedures, response, evacuation and emergency management plans, animal welfare plan and open fire policy.
In 2006 and 2020 Phil coordinated The Land Sydney Royal Showgirl Competition Zone 2 final for the HDAA and is a staunch supporter of the annual Hawkesbury Showgirl Competition.
In 2009 Phil negotiated with Western Sydney University for land to be used for car parking during the annual show. He also secured financial sponsorship in excess of $20,000 for UWS, Richmond Club, Rob Tolson Mushrooms and KRE Metal.
Since becoming a member of the committee over 21 years ago, Phil has worked shoulder to shoulder with the ground manager to prepare for the show and at the extensive pack and clean up. He performs any task required including cleaning, pruning, hosing, painting, mowing, slashing, whipper snipping, weeding, tidying and has often relieved in various positions, including as secretary manager in the three months prior to the 2014 show.
Phil takes the meaning of a volunteer to a completely new level.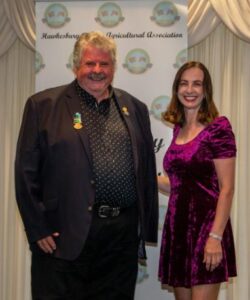 Colin Mitchell:
Colin was endorsed as a member of the general committee in 1979 and for the past 42 years continues to be an active member, following in his father's footsteps.
Colin has held the executive positions of deputy president, president 2006-2009 and vice president. He is the current vice president.
For several years Colin has been ringmaster, main arena entertainment and fruit chief steward. He currently holds the role of steward for the fruit section. In 2021 he also managed the agricultural section.
Additionally, Colin has been the annual showgirl coordinator, devoted extensive hours as a member on various sub-committees – including reviewing the constitution and implementing the recognition awards – and contributed to numerous projects in an outstanding manner.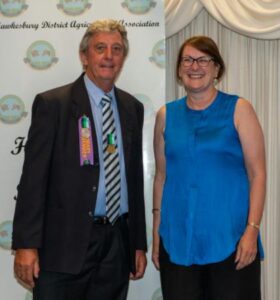 Kenneth Ridge:
Ken was endorsed as a member of the general committee in 2007 and a member of the executive committee in 2014, when elected as treasurer, a position he has held continuously since.
His official voluntary affiliation with the Show commenced well prior to 2007 as he performed the Pony Club and Horse Ground Announcer section head positions in the capacity of Honorary Steward. Ken has continuously performed these duties in excess of 20 years.
On being elected as treasurer he has performed with distinction. Ken has developed and implemented accounting systems and procedures to ensure HDAA's financial processes are up to date.
Ken's total commitment is demonstrated by the voluntary time he has given for preparing submission applications for government and financial grants, for the continual development and improvement of the showground with outstanding success.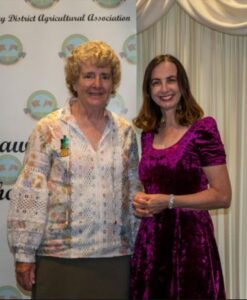 Diane Shaw:
Diane was endorsed as a member of the HDAA Ladies Auxiliary, now known as the Show Auxiliary, in 1978.
She has held the positions of secretary, treasurer and immediate past president from 2016-2020 with distinction. She was additionally endorsed as a member of the general committee in 2015 and was an active member until her 2020 resignation.
Diane has given extremely active, outstanding and honourable service. Her activities were widespread for the preparation of show schedules, organisation of judges and pre-show display setup.
She was largely responsible for the attraction and recruitment of additional new members to the Show Auxiliary. Diane's many years of service devoted many hours to the overall benefit of the Hawkesbury Showground.
Current honorary life members
Honorary life member recognition of significant service and contribution:
Ross Matheson.
Honorary life members:
John Haplin; Emeritus Prof Graham Swain AM; Kath Griffiths; Kenneth Drury; Narelle Ward; Pauline Close; Ross Matheson; Mary Aveyard; Lynette Dogger and Mervyn Ward.
Main image: HDAA volunteers were awarded for their selfless service to the Hawkesbury District Agricultural Association. The presentation night was attended by all levels of government at Hawkesbury Racecourse, the site where the first 100 Hawkesbury shows were held before moving directly opposite to the dedicated Showgrounds site in 1987.