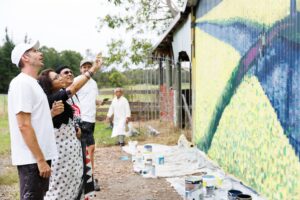 Earlier this month (March), and nearly a year on from the floods which saturated the Bangladeshi community group centre in Pitt Town, paint giant Taubmans and charity group GIVIT surprised the group with a striking 13m x 3m mural makeover by local artist James Middleton.
A week after the stunning mural was created, the second floods came, wreaking more widespread havoc in the area, with the Centre, along with numerous homes and roads, going under water again.
The statement mural, commissioned by Taubmans to mark the 12-month rebuilding milestone, has been named Amar Bangla "My Bangla". It brings together two key Bangladeshi elements in an impressionistic style; its famous mustard fields and national flower, the water lily.
Again, the mural, plus interior and exterior paint will be reinstated to make the centre functional, as part of the second clean up and repair.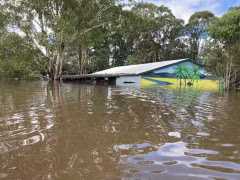 Talking about the touching tribute, Asad from the Bangladeshi Community Centre said the project was a "wonderful gesture from PPG and GIVIT" to commemorate the centre's vision.
"[It] commemorates the vision of our centre, celebrating tradition, connection and our community near and far," Asad said.
"We cannot wait to welcome people to visit and celebrate the meaning and beauty behind this painting."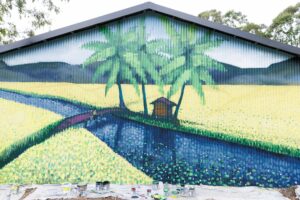 David Nicholls PPG Commercial Director, Australia, commented, "If the last couple of years has taught us anything it's that taking care of our local communities and the places we live is what truly matters to supporting a safe and prosperous way of life.
"Making sure communities affected by traumatic natural disasters are given the opportunity to access support is how we can help and helping is part of what we do here at Taubmans and PPG … in making a difference."
Since 2019, Taubmans has invested $960,000 in donations and paint to support more than 70 GIVIT community projects as part of the Taubmans' In It Together initiative.