In less than 20 years Blacktown City is projected to have a population larger than the state of Tasmania, so it needs urgent investment in infrastructure and services, which a Labor government will prioritise if it wins office at the election, according to NSW Labor leader Chris Minns.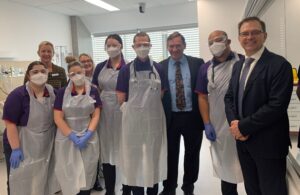 Joining with NSW Labor's deputy leader and shadow education minister Prue Car, shadow health minister Ryan Park, Blacktown MP Stephen Bali, Mount Druitt MP Edward Atalla and Prospect MP Hugh McDermott at the Australian Catholic University campus, Blacktown, Mr Minns said focussed investment was crucial.
He pointed to the Liberals' funding shortfalls in schools, hospitals, roads, jobs, transport, sports facilities, parks, arts, police, housing, business development, social and aged care as "not keeping up with" demand.
"Western Sydney has been left behind for too long," Mr Minns said.
"After more than a decade of the NSW Liberal Government western Sydney has resulted in poorer healthcare resources, schools not built, infrastructure cancelled or delay, and a failure to keep up with population growth.
"Blacktown City is one of the fastest growing areas in Australia. The region is adding 10,000 residents a year and will reach a population of 615,000 by 2041."
Mr Minns and his colleagues discussed the challenges of Blacktown's fast population growth with Professor Zlatko Skrbis and community leaders before touring the ACU campus to see the state-of-the-art training facilities it offers local residents.
"ACU's courses are directly relevant to the needs and aspirations of a growing region, offering the skills people need for the jobs of the future," Mr Minns said.
"Nursing, allied health, sports science, social work, teaching and businesses courses help equip the local workforce to meet local employment opportunities."
Main picture: NSW Labor leader Chris Minns with Professor Zlatko Skrbis.